The Raise is our successful series of pitch events. Running since 2017, the Raise brings new investment opportunities into a distinctive venue with entertainment and refreshments.
"I just want to say thank you for the invite last night to Raise The Glass. It was totally different to what I expected. I did make some good connections, which was great and a lot of interest in products"

Meta Auden – Spectra Sensory
Want to learn more about Angel Investment Join our Investment Education and Events Mailing List.
RAISE I – The Belfast Raise – November 2017
The eSpark/Ulster Bank accelerator offices were the hosts for the first Raise. A large audience made up of every component of the investment ecosystem watched a series of diverse and new pitches.
RAISE II – The Rademon Raise – June 2018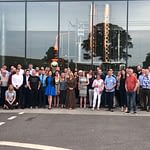 Hosted by the Shortcross Gin Distillery on the gorgeous Rademon Estate in rural County Down, the Rademon Raise saw 11 founder teams pitch their companies to a select audience of entrepreneurs and investors. Companies such as Rotor or Haru have subsequently raised substantial investments.
RAISE III – Raise the Curtain – November 2018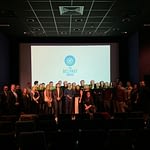 For the third Raise, we approached the QFT (during the 50th Year Celebrations) and 6 founding teams made their pitches to a mixed audience of entrepreneurs, hopefuls, angel investors and visiting investment funds.
RAISE IV – Raise the Bar – 9th May 2019
A great night of networking, pitching and drinks at The Dark Horse. The point of a pitch is the meeting afterwards. Not the pitch itself. You're there to initiate interest. No-one is going to sign a cheque at an event or have a bidding war with other investors in public – leave that for the "startup theatre" of Dragons Den. We live in the real world. Read about it at Raise the Bar – The Aftermath
Raise V – Raise The Glass – 9th October 2019
Raise the Glass was the latest in our series of pitching events for founders and investors. Founded itself when there was no way for startups to meet financiers it's proving to be popular! We had six pitches, half of them going through the Raise programme and half of them independent.
It's important for everyone to realise that our efforts are not siloed. We give away much of our content on this blog or through open workshops. Anyone can attend, even if you're on one of the incubation programmes in the city and beyond.
Read about it at Raise the Glass
To get involved in the next Raise, see details here.