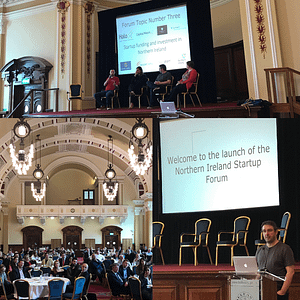 In June 2017, we held the first NI Startup Forum. A hundred people crammed into the Great Hall at Belfast City Hall, (with the help of local businessman and politician Máirtin Ó Muilleoir) and debated the advantages and disadvantages of Northern Ireland's startup ecosystem.
Topics included the limited access to funds for startups (a persistent problem recognised in Invest NI's "Northern Ireland Digital Content Strategy" document from 2007), representation of women on panels at conferences, management teams and in the industry as a whole, and the steps needed to improve Northern Ireland's standing on the UK innovation leagues.
We will be holding further Startup Forums in 2019.