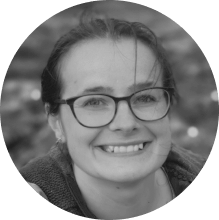 Raise Review 2020
A trait that I think is important (for UX Designers) is exploring and getting creative especially in projects where you need to be a bit innovation. When new products are being created we explore and understand problems. We generate ideas. We're brainstorming and researching to try and find the user needs. We go down all different paths to try and find what a user needs from a new product and in Anaeko we've done a few projects like this where we have not really found our users yet we're building new products based off data.
So what we do is we get the team together to find what data we have. When we have really good data and we think it will be really insightful but we don't know who the target users are and we don't know in what way they want to use it, we get the entire team involved in the process and everyone gets involved with the UX journey.
We get researchers, designers, marketers, engineers, and even management stakeholders and everyone working together to rapidly generate ideas wire-framing and prototyping. Then we get it in front of users and remmeber it's okay to be wrong. It's ok to scrap the ideas that aren't good. Throw them away because you've only done quick prototypes and quick wireframing and keep trying this process until you find something that works and you're like actually these users are starting to engage with this and feel that they would really useful so you build it!
I like this exploring process as you can get really creative and when you do follow this design process and it makes you find how many wide variety of ideas and possibilities come out. You get a whole heap of ideas and possibilities from the design process!
Being analytic is another trait that's quite good and not only the sense that you're tracking gathering data. 'Doing quantitative research' But also asking yourself questions like: "Is this the right way", "Can we make it better?", "How does the user feel?" and if you answer these questions it's okay to be wrong with your original thought.
Always ask your team: "Is this the right way to do it?"" and if it's a "No" that's okay. Right or Wrong doesn't matter with UX. You have to look at the bigger picture and find the best solution for the user. You have to try and not get stuck on that single idea and an example that I went through with our team was a product called Service Clarity. It was a KPI reporting tool and and it had been around for a few years. There's been a lot of different people working on it and different things happening with it so we had to take a step back we had to ask ourselves questions and analyze the data that we had for the previous product and just say: "Is this the right thing for the users?" "Is it working for the client?" "Do we need to take a change in direction because it's maybe not working right now?" and so by analyzing the workflows drop-off points and user needs we did
adjust Service Clarity and the team did well.
We had to really be strict on ourselves and say no we don't need this part. We need to strip it out, simplify it, refine it and reassess what the user goals are. In the end doing that, we achieved the business goals, we got more customers for the product and it made more money.
Getting that continual improvement right and asking the right questions and saying no to the stuff wasn't right is what made it work.