Before we get into the 7 top tips to maintain positive mental health from Northern Irish tech professionals. It's important to take note on why we've put together this blog post. 🙂 
With the recent news that Northern Ireland is going into a two week circuit breaker lockdown and as we start the move into the winter months of 2020, it has never been so important to not only stay on top of your mental health, but to look out for people around you and think about how to have a positive impact on their mental health. Last weekend saw World Mental Health Day – a day focused on raising awareness of mental health issues around the world and mobilising efforts in support of mental health. With that in mind, Raise have decided to run a free event tonight that is focused 100% on Mental Health and Mindfulness for Businesses and Entrepreneurs. We have three speakers at the ready. Join us tonight at 6.30pm to hear from Eve McCann, Katie Matthews and Emma Bray.  This is a free community event that you, your friends and work colleagues are all welcome to and we would love to see you in the room. Our Tech for Non Tech events allow speakers a platform to talk for about 15/20 mins each leaving lots of room for open audience Q&A at the end of the night.
Register now for Free

I better kick things off with my own top tip for maintaining positive mental health.
My top tip this year is to 'think like a Norwegian'. There were a few studies released recently that mentioned that it was a Norwegian "mindset" that arms its citizens against the stresses of the long polar night. "People who see stressful events as "challenges", with an opportunity to learn and adapt, tend to cope much better than those who focus more on the threatening aspects – like the possibility of failure, embarrassment or illness. [ref] There is also a practice called koselig – a Norwegian version of Denmark's hygge – which might involve snuggling under blankets with a warm drink in the candlelight.  I for one have started to tidy up my living space, fill my floor with rustic rugs and wrap my sofa in a faux fur blanket. I've even invested in some autumnal pumpkins to add some warm colours about the room.  That is my top tip!
Below are 7 top tips from people in Tech from Northern Ireland.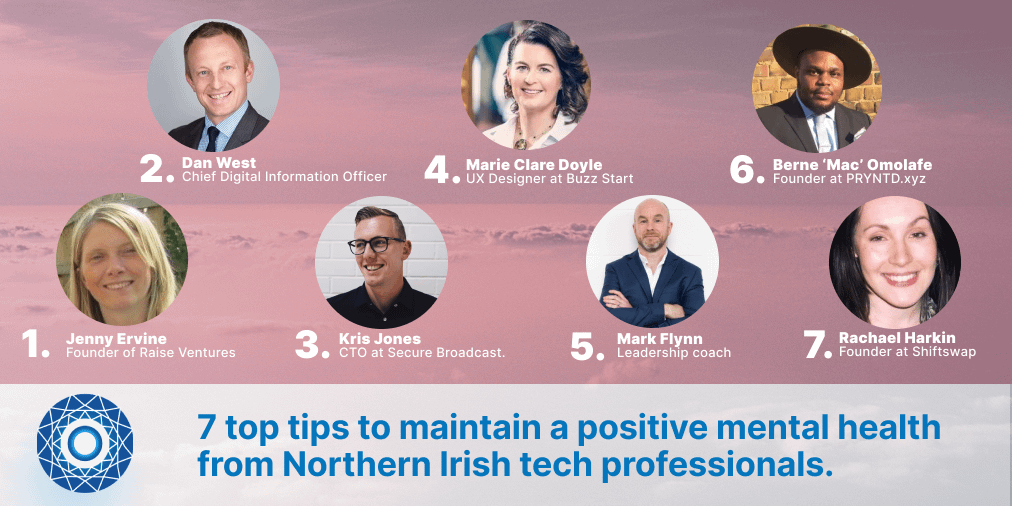 What is one thing you would suggest to maintain positive mental health? For me mental health is about making sure I keep connected to others. With the move to more online meetups I've been part of running and attending events which has helped. Then it's about following up for a quick one to one 20 min chat and coffee with new or existing friends to share experiences. In person a takeaway coffee and chat to the barista or at shop checkout helps too and regular chats with family and friends outside work definitely helps.

Jenny Ervine – Linkedin
What is one thing a tech enthusiast can do to with digital to maintain their positive mental health?
I guess there's two halves to a response – one is to protect yourself from the negative mental health impact from the 'always on' digital culture – take time away, try not to be on social media at bed-time (which I am failing totally at right now), make sure you have clear delineation between work time, side projects and personal time, those sorts of things – the more positive story about tech and mental health is what digital tools can do to help with factors that contribute to good, or bad, mental health – things like personal admin, organising your priorities and time to feel in control of achievable goals – and keeping on top of physical health and well-being, like apps that help to keep physically fit (for me the biggest contributor to good mental health) or to monitor and improve sleep. I know that's not one thing, but I'll take author's privilege!

Dan West – Linkedin
What is the one thing a leader in tech can do to maintain positive mental health?
My suggestion for what a leader can do to maintain a positive mental health will be the same for anyone in the tech industry as we are all going through the same experiences at the minute. I know myself, I feel under more pressure now due to the transition to fully remote working, the constant desire / need to be online and the introduction of new complexities into workflows and communication and I am sure many leaders are feeling the same. Maintaining a positive mental health is now more important than ever for the productivity and motivation of your team and company, ensuring that short, medium and long term focus remains. For me, and I am sure like many other leaders I struggle to switch off from 'work mode'. This pandemic has made it harder than every, I constantly wonder now am I working from home or living in work. However, I can't complain I love what I do. To help maintain a positive mental attitude I believe that one of the most important thing to do is to celebrate the smalls wins, regardless of how small they are. Days, weeks and months can merge into one and it can be easy to lose sight of the great progress you and the team have made. Celebrating every win along the way helps keep overall team motivation high and the knowledge of making progress within the longer term vision is incredibly satisfying. Taking the time out and a step away from work to congratulate the team and reflect on the small wins helps to disconnect from the day-to-day working and helps reframe the mind to a much more positive state. For me, seeing continuous overall improvements and innovations is vital to keeping motivation high and a positive mental health. Celebrating the small wins ensures that everyone is aware of the progress being made, the long term vision and goals and helps increase motivation by stepping away to congratulate each other on the great and difficult work that is being complete.

Kris Jones – Linkedin
What is one way you use tech to maintain positive mental health?
Thank you for your consideration. I'll tell this from my own personal experience. I sadly unexpectedly lost my dad over the summer. We were very close. He was a pastor in his lifetime, so fortunately I found recordings of his ministration. Watching him in VR gave me tremendous amount of comfort. I found solace in the immersive memory of him. Overall I ended up not having to speak to a grief counsellor mainly thanks to immersive videos of him.

Berne 'Mac' Omolafe – Linkedin
What is your top tip, for maintaining positive mental health?
Practice 'Being grateful' especially when you begin to start your day or even through out the day would be my top tip. In saying this I don't practice it but I would love to do get into the practice every morning. I think it definitely endears a sense of calmness and well being. Articulating being grateful I believe is actually like a form of mantra that some people use such as 'not this, not this' that people use as a calming technique.

Marie Clare Doyle – Linkedin
What is one thing a leader can do in 2020 to maintain a healthy mind?
For me the one thing to do is to exercise. Particularly first thing in the morning. Physiologically it causes the release of dopamine and serotonin which regulates your mood and makes you feel "happy". Psychologically no matter what happens that day, you've done one thing, a hard thing, for yourself. For years I suffered from anxiety related to stress on the job and exercise, running in my case, is the one thing I've found to reliably help me maintain a healthy mind.

Mark Flynn – Linkedin
What is your main suggestions for maintaining a healthy mind?Maintaining a healthy mind can be challenging for any entrepreneur… Sometimes after all the doubt and negative mental chatter, the only drivers you have are your passion and a determination to succeed…this is vital, keep it!
A few other things I've found on my journey so far that are:
1. To be gentle with yourself. Relax the negative self talk and rest when you need it.
2. Setting 5 achievable daily goals. I was given this advice by an old colleague, I've kept it with me since. Exercise could even be one of these.
3. Take 30 minutes to do something that brings you joy – that lifts your mood when you're having a bad day. Even playing with your kids 🙂
4. Positive reinforcement. Pick 1 positive message for yourself that day and repeat it 3 times in the morning, then again throughout the day when you feel doubt starting to creep in..
5. Enjoy time with other people. Be in the moment. NETWORK, socialise, build support and be supportive. Even when you don't think it sometimes just a message or call of support can go along way for someone who you think is "hitting it out of the park", and giving your time for that person will also create a positive after affect for you. So it's win win 🙂
I once read that if you walk and talk like you're already succeeding then success will follow.
Some positive messages to take away..
I got this
I am achieving my goals
I am enough
I have the skills / experience / knowledge.

Rachael Harkin – Linkedn
For more info on tonights free event, Click Here.