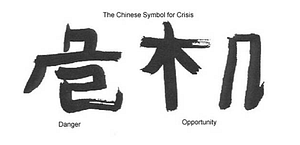 In 2011 I wrote a blog for Sapphire Capital Partners (https://info.sapphirecapitalpartners.co.uk/blog/bid/200229/crowdfunding-sees-the-banking-crisis-as-an-opportunity-with-danger) discussing the continuing fallout of the 2008 banking crisis and the opportunities for the then revolutionary idea of Equity Crowd funding and P2P lending.
The title of the Blog was "Crowdfunding sees the banking crisis as an Opportunity with Danger".  In hindsight, it should have been the tech sector sees the banking crisis as an opportunity with Danger as the Fintech sector emerged from this crisis.
Since 2008 we have seen:
The emergence of true challenger banks Revolut, Starling, Monzo to name a few.
RobinHood and other online trading apps have driven down fees and delivered a level of service that has forced incumbents to improve their online service.
Growth of the credit check industry and the release of open APIs to allow digital lenders to offer bespoke solutions.
Payment systems APIs are allowing seamless purchasing. Mobile payments have grown in security and ease to the extent they have challenged the need for banks across Africa and other developing countries
Blockchain and DLT is becoming increasingly mainstream and not only the backbone of bitcoin and other alternative currencies.
Insuretech and Regtech have spawned so many new solutions and offerings they have their own prefix.
In regard to equity crowdfunding and p2p lending they have faced very different experiences.  At first, they were often spoken of together because the initial idea was the same.  Lots of small investors supporting local or businesses they have an interest in.  The tech was very similar – a platform to present the opportunity, simple onboarding for investors to deal with KYC/AML and a payment gateway to take funds.  Behind the scenes standard loan agreements for P2P and for investment, standardised term sheet.  As the platforms grew and developed the regulatory requirements became more stringent.  The realisation of instructional investors that this was an area of opportunity changed the landscape.
P2P lending led by Funding Circle started working closely with institutions and government backed schemes.  The property sector and particularly traditional mezzanine finance houses and small bespoke lenders saw a great opportunity and entered the market.  Those that tried to exclusively raise funds to lend from High Net worth individuals, saw the regulatory landscape become increasingly stringent and it's largely been unviable to continue.
Equity Crowdfunding has fared better and continues to grow with Crowdcube and Seedrs maintaining market domination.  The processes and technology deployed has been adopted by other platforms.  This is largely because equity crowdfunding did not change the fundamental principles of early stage investing.  All they have done is widen access to a much bigger investment market and made the investment process faster and more efficient.  The challenge the platforms face are the inevitable attrition rates and limited success.  While experienced angel and vc investors recognise that only one in ten investments deliver a lot of small investors will have different expectations, despite the warnings.
The current Covid 19 crisis, unlike a decade ago didn't originate within the financial services industry.  Thankfully measures put in place to ensure banks are effectively capitalised has ensured they have not been put under undue stress.  The wider economy is however facing a massive period of pressure and change.   The most obvious areas that will emerge very differently are leisure and tourism, commercial property, transport and finance.
It remains true however that a crisis will present opportunities with danger.
Where Fintech goes next is potentially:
The normalisation of easy payments, an end to cash and cards with smart phone and biometric payments becoming the norm.
An end to free banking but increased level of service, high street banks retreating to custodian and back office banking services with challenger banks dominating consumer banking. Europe following the example of Africa were smart phone mobile accounts and payments are solving the problem of banking inequality. If mobile providers begin introducing other financial services the banks become increasingly irrelevant to that section of the economy.
Fast efficient client onboarding and immediate credit decisions.
Blockchain (Distributed ledger Technology) becoming increasingly mainstream in the management of information and data.
Family office and Venture Fund industry fully embracing fintech to broaden investor and deal flow and reduce management costs with technological solutions.
The FCA and regulators around the world harmonising regulatory environment to enable more efficient international fintech activities. (this is more hope that expectation).
The financial services industry has always been one of dynamic change.  While it's perceived as the domain of grey haired men in suits, they are driven by profit and it's generally recognised that digital transformation is a route to driving down costs and increasing revenue.
If you have a fintech business or idea that we can support at Raise Ventures, please get in touch.