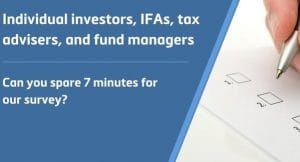 Calling individual angel investors, IFA's, tax advisers and fund managers.
The EISA (Enterprise Investment Scheme Association) are running a survey to help understand your views on EIS  / SEIS investment schemes.
As a membership organisation they have been lobbying hard for both startup and investment support in the form of government tax incentives.
Director General of the EISA, Mark Brownridge said, "The EISA has a key role to play as we now look at kick starting the economy again. Over the past 25 years 27,000 businesses have been supported by £20billion of private investment.
Now is the time for us to be reviewing exactly what conditions and incentives would attract new investors to play their part in future business successes"
Click below to complete the survey today