This recognition is well placed and the ranking is all the more impressive when you look at the populations of the cities in the top 9 places.
Andrew Jenkins, Fintech Envoy for Northern Ireland was quoted to say: "Confirmation that Belfast has been ranked in the inaugural top 10 "Tech Cities of the Future" for 2021/2021 by fDi Intelligence, one of the world's premiere publications for the business of globalisation, is another significant endorsement of the burgeoning tech sector in Belfast and indeed Northern Ireland as a whole. To be ranked above the world leading financial hubs such as Frankfurt and Zurich are testament to this"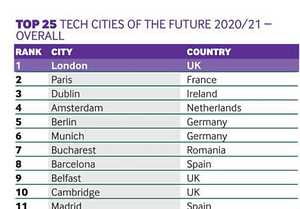 These are the reasons – Raise recognise as why Belfast and the rest of Northern Ireland is a great place for tech:
People
Our upbringing, schools and universities produce people with both technical skills and attitude that is essential when building technology businesses.  There's a resilience, determination and irreverence that comes from being on the corner of the most western part of Europe.  There is a freedom from being in a comparatively remote place, you can explore ideas and build them.  It's also worth mentioning, without even drawing attention to our history and politics – that we always have to work harder, travel more and shout louder for attention.  We also have to make sure what we are shouting about is good.
This is illustrated by StatSports.  Their Newry base has allowed them the freedom to build an amazing product and then service the English Premier League and other football leagues around the world without fear of being seen as having a geographic allegiance to a particular team.
Infrastructure
While there is a lot still to be done, Belfast and the rest of Northern Ireland has an extensive fibre network reaching 40% of residential properties.  This all built on the efforts in the late 1990s to create the People's Network giving internet access through schools and libraries, followed by BT, other providers and the Executives in the 00s when NI was the first region in Europe to have 100% access to first generation broadband and then Project Kelvin was completed, with an underwater cable that links Ireland to the US.  This means we have a direct link to North America that does not need to be routed through other regions giving speed and improved securirty.  This infrastructure helped attract CitiBank, All State and other financial service inward investment.  It also helped First Derriavtes, Wombat, Options Technology, AquaQ and other fintechs sell their services to Wall Street and grow in Northern Ireland.
Cost base
We are always keen to see the standard of living rise but with salaries and office space being significantly lower – Northern Ireland is very attractive to inward investment.  Before the Covid crisis despite, being on an island – London was an hours flight away, 4 hours ( allow for taxi to airport, security, flight and train from heathrow) from my office in the centre of Belfast to a meeting in Covent Garden.  Dublin is 2 hours and New York 8 hours.  Remote but accessible.
Support
There is a great support network for startups/ scaleups and enterprise tech companies from the Northern Ireland Executive and Invest NI for multinationals keen to establish an NI base.  The councils and Enterprise NI are also increasingly working well with businesses through their enterprise parks to encourage growth.  The technology startup sector can look to Raise Ventures, we are very well placed to support startups through our accelerator and wider community Digital Circle. There is also great support programmes at Catalyst, Ulster Bank, Danske Bank (Fintech hub) and the Invest NI schemes run by Ignite at Ormeau Baths. Like everywhere not every scheme is right for every founder and entrepreneur but there is such a range of support options, there is a place for all.
We can also boast a community of tech and professional service firms based both in NI and across the world.  The great NI Diaspora are always there to help !
The big question is how can Belfast climb up these rankings?
Brexit
Will Brexit have a negative or positive impact will be down to whether the NI Executive, Westminster, Dublin and Brussels can come together to give NI special status. This would allow the region to benefit from access to both EU and GB markets and free movement of people and goods.  If not, the region will be freed from EU State aid rules, other restrictions and be part of new trading relations established by the UK government.  We live in hope that these will be positive and give NI a competitive advantage.
Infrastructure
Continue to support the development of new technology and particularly spread of fibre and 5G. We've made great strides in the last two decades and Northern Ireland more than pulls its weight when it comes to new technology development and acceptance. We should be looking to expand coverage across the region, utilising existing dark fibre assets to expand our high speed digital platform to the rural regions where there are aspiring digital workers who appreciate the pace and peace of the rural environment.
Skills
It's essential that the workforce embraces the concept of continual personal development, that the schools and universities prepare people with the skills that will be relevant to the tech industry.  There is also an opportunity to harness the resources and knowledge held by fast growing business to encourage them to help people grow.  Work is already underway by Raise and other leading organisations to embrace the skills agenda to help accelerate the region. That's hundreds of new tech workers being created in less than a year through postgraduate programmes and Higher Level Apprenticeships.
Shout a bit louder  – particularly to get the attention of our Diaspora
We're taught as kids not to brag. But in the world of global competitiveness, humility is not necessarily a virtue. So we need to brag loudly and catch the attention of our Diaspora who can shout even louder on our behalf.  Show the world that this is a great place for an HQ and the birth place of great new companies, ideas and people!