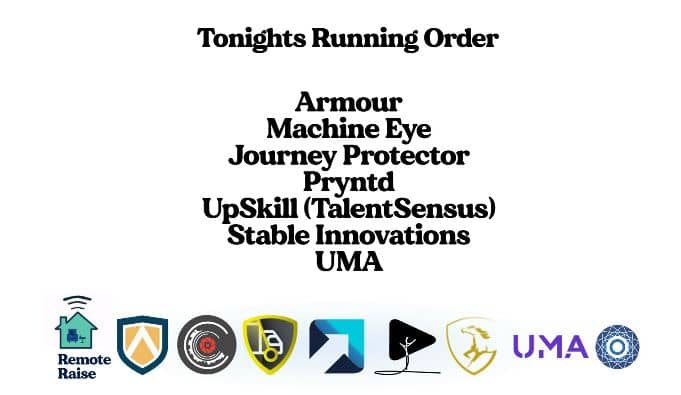 On Thursday 18th June, Remote Raise hosted 7 great startup pitches with an audience of 40 angels and funds.
The event was to be hosted in Belfast in April this year, however due to COV19 lockdown plans quickly were put on hold until the time was right.
As lockdown measures are now easing and with companies and investors moving from survival to thriving mode, Remote Raise moved the pitching event online and ran very successfully yesterday evening.
The audience came from far and wide, US, UK, Ireland and Europe and enjoyed watching great investment opportunities from companies solving real problems.
These startups have been unable to get access to government support and some who were close to getting VC deals that have since fallen through as the VC's are now supporting their existing portfolio.
The focus of the event was on pitching for investment but it was also on the connection piece. The value angels and funds can add in terms of contact for customers, suppliers or knowledge and expertise.
Jenny Tooth from UKBAA said earlier this month" early stage investors are so important at this time" with the idea that it is the great founders that angel investors will back and these startups will continue to thrive.
This is the 6th  Raise pitching event held in the last 3 years, showcasing what talented startups we have in Northern Ireland. This is the story of Raise so far, we run regular startup pitching events along side our accelerator programme. We are currently reviewing the applications for out Summer 2020 intake.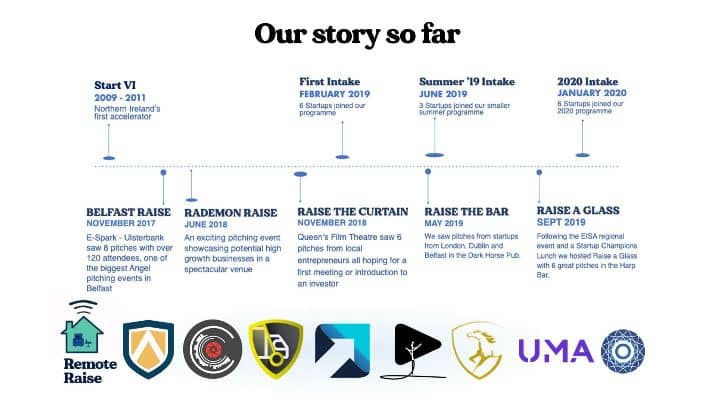 Here is a summary of the companies who pitched and if you are able to help with connections or expertise please get in touch directly.
Armour
A software product that allows SMEs to identify, manage and keep up to date with health, safety, environmental & employment legislation.  The platform simplifies the legal compliance process, saving time and money.  Designed by legal consultants and industry experts to mirror their activities through an automated process.
Armour launched on 1st June 2020, with health & safety legislation for Northern Ireland and already has 20 new subscribers using the platform to conduct COVID-19 workplace assessments, a legal gap analysis and to access a central compliance hub of guidance and downloadable templates.  Plans are in place to launch in the remaining parts of the UK and in the Republic of Ireland in the coming months.
Contact: Charlene Armour
Email: charlene@armour.ai
Further Details: https://www.armour.ai/
Machine Eye
Machine Eye builds human detection and perception systems for tractors and heavy machinery. Retrofittable, Machine Eye prevents operators and bystanders from being injured by these large machines, across farming, construction and industry.
In recent weeks, Machine Eye has started supporting businesses with return-to-work after covid: our technology assists facilities managers, and building owners in managing occupancy, targeted cleaning, and social distancing. Machine Eye technology is bringing confidence and reassurance to the workforce as we transition to a new-normal.
Contact: Brendan Digney
Email: brendan@machine-eye.com
Further Details: http://machine-eye.com/
Journey Protector
Journey Protector solves problems faced by haulage companies due to theft or damage of their load as well as issues associated with illegal stowaways entering the rear of vehicles.
The device and system which we have developed will protect drivers, haulage firms and their freight from loss or damage caused by clandestine stowaways – this will save time and money for our clients and give them a competitive advantage over their rivals.
It prevents driver collusion in people trafficking and therefore will also prevent migrants/stowaways from harm caused by the conditions in the rear of the vehicles as they will be detected and removed in a timely fashion.
Contact: Anne Lawlor
Email: anne@journeyprotector.com
Further Details: https://journeyprotector.com/
Pryntd
An immersive on demand, live streaming and wearable platform for entertainment.
Using one of the world's first AI algorithms that converts .mp4 into immersive 360-VR videos, the platform makes it easy, fast and affordable for video content to be adapted into immersive on-demand and live streaming content.
The first route to market is through music. Prynted already has access to hundreds of music videos through record labels and will distribute and monetise this content via the PRYNTD platform, a web and free-to-download app. Audiences will enjoy the content through any smart device including smartphones, tablets, computers, wearables including AR/VR Headsets and haptic clothing.
Pryntd is in conversations with VC company Plug and Play who are keen on a corporate partnership and ready to add investment alongside angel investors.
Contact: Berne Omolafe
Email: bernescontacts@gmail.com
Further Details: https://pryntd.xyz/
UpSkill / Talent Sensus
Upskill Enterprise provides SaaS HR automation technology for companies seeking a better way to build their workforce.  TalentSensus has been developed and launched alongside some of America's leading workforce agencies.
It puts employee skills at the center of decision making, removing unconscious bias for recruitment, career planning and retention. Powerful predictive analytics and modelling tools are used to quickly identify potential HR issues and empower companies to hire and nurture the best talent while minimizing costs.
Following the impact of COVID19, TalentSensus has been working with local UK industry associations and US workforce boards to help employers plan for recovery. The platform helps deal with challenges of restructuring, rehiring, onboarding and supporting workers as employers move into a post-COVID19 economy. TalentSensus – The Quickbooks of human capital
Contact: Stephen Rice
Email: stephenr@upskillenterprise.com
Further Details: https://talentsensus.com/
Stable Innovations
Equine wearable fitness tracker – An innovative wearable and intuitive real time platform for elite equestrian athletes to streamline training and optimize performance.
It is a fully automated equine data solution, which incorporates a dynamic software system, empowering unique algorithms for determining horse fitness and performance.
Delivered through an intuitive dashboard for real time feedback, it enables the user to be proactive to determine outcomes in performance, simulate race days, receive alerts and actions, and provide transparent data to broadcasters and betting agencies.
Contact: Brendan Lowry
Email: info@stableinnovations.com
Further Details https://www.stableinnovations.com/

UMA
UMA (Unify, Manage, Assist)  A privacy first sensor solution for workplace monitoring providing real time business intelligence for actionable insight.
UMA was built in response to the need for workplaces to digitally transform to improve user experiences, collaboration, reduce real estate costs and drive operational efficiency using technology and enhanced business intelligence.
Recently UMA has adapted its sensor technology to give businesses the ability to obtain real-time occupancy analytics of their workplace to ensure a safe workplace and to assist with understanding utilisation as part of flexible working strategy.
Contact: Gavin Fletcher
Email gavin@askuma.ai
Further Details: https://askuma.ai/