We've just launched the Raise Ventures – summer startup accelerator programme intake and we thought it would be a good idea to share with you an A to Z of startup tech lingo.
A is for API
API stands for application programming interface. An API is a way for your product or web service to talk to another product or web service and vice versa.
API Examples
https://developer.spotify.com/documentation/web-api/
https://developers.google.com/youtube/v3
https://docs.genius.com
If we've just given you your idea for your next startup apply to our summer cohort today. ?
B is for BELTECH
Beltech is a tech conference curated by Kainos – (Side note: We wonder if they will they pivot to a virtual tech conference this year). What's your favourite local tech conference and are they pivoting? Hit up @raise_ventures on twitter with some feedback.

C is for Chartered Accounted
A chartered accountant is someone who retains a membership with either the Institute of Chartered Accountants or the Association of Chartered Certified Accountants. Speaking of accounts, we tuned into a live conversation last week called the Monday Night Business Conversation last week was all about setting up a LTD company.
D is for Design Sprint
The design sprint was pioneered at Google Ventures. It's a time-constrained, five-phase process that uses design thinking at its core. If you've not read SPRINT  by Jake Knapp, add it to your book list and learn how to solve big problems and test new ideas in just FIVE DAYS!  You can also dive into videos by AJ&Smart who are experts in design thinking.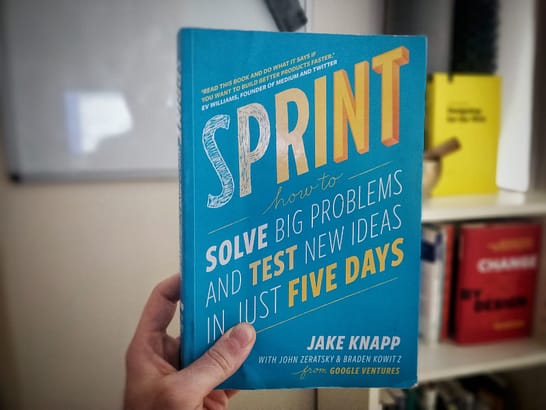 E is for Evan Williams
Evan is a hero within the global startup tech scene. For those of you are new to his name, you'll most likely know a few of his products. Evan is a founder at Twitter, Medium and Blogger and he even coined the term "blogger". You could say, a lot of what the web is today is because of Evan Williams.
Check out this conference at XOXO fest which is co-founded by Belfast native Andy McMillan.
F is for Funding
If you are taking the leap into the start up world, you will want to familiarise yourself with the lingo when it comes to funding. One example of this is Seed Funding which is commonly known as Early Stage Investment. This is typically the first official money raised by the venture.  While on the topic of money, that leads us on to the next letter, G.
G is for Grants
The difference between a loan and a grant is that you usually don't have to pay a grant back. Grants regularly come from government funding. These sources of capital can majorly kick start your business on its journey. Sound good and want to know more? Have a read of some of our recent blog posts on this topic or book a meeting with a member of our team to get some insight into how Raise can help.
Recent blog posts on Funding and Grants:
H is for Hackspace
Hacking has evolved over the past ten years and it wears lots of different hats. Growth hackers, ethical hackers, hacktivists and everything in between can be found gathering collectively in places know as a Hackspace. Check out Farset Labs,  a local community space for creativity and technological tinkering.
I is for Intellectual Property
Intellectual Property (IP) is intangible property such as copyright, patents, designs and trademarks. These can prove to be some of the most valuable assets within your startup – so its important to make sure you have your IP in order and protected.
J is for Jase Bell 😉
Jase gets a shout out as regular attendee at our local and virtual/online events.  Jase is an entrepreneur, an author and a developer that has advised many Startups within the Northern Irish Startup scene.
K is for KPI
Teams will set 'Key Performance Indicators' to see how well a company is performing on the startup roadmap.
L is for Launch
The startup is all about the launch. Websites like producthunt.com are commonly used to help launch your product. One of our startups 'Armour' officially launched this week. Armour is the online tool that keeps your business compliant and up to date with legislation. This could be particularly essential for anyone requiring Covid-19 related legislation.  Huge congratulations to Charlene and everyone involved with the armour.ai launch.
M is for MOM TEST
Some of the team recently read an excellent book by Rob Fitzpatrick called "The Mom Test".  This book teaches you how to talk to your customers, how to know if your business is a good idea by conducting your own market research and interestingly, how to tell if people are lying to you about how awesome your business idea is.
N is for 'Neill'… Marty Neill
Marty Neil is Co-Founder at Raise Ventures along with Jenny Ervine, Matt Johnson and Michael McDowell. Entrepreneurship DNA is in all the team members at Raise Ventures. Read more about our team and get in contact to start your journey today.
Follow Marty on twitter @nomoreart
O is for "One can get anything if they are willing to help enough others get what they want".
This blog post needed a motivational quote by Zig Ziglar (and "Z" was already taken below). Motivational quotes: love them/hate them. Sometimes they have merit and if you've read this far, @Raise_Ventures your favourite quote.
P is for the Pivot
When startups don't scale, they'll pivot which means they will change, improvise, adapt and overcome. A few famous (and successful) examples of this below:
Airbnb started as an accommodation solution to provide for conference attendees;
Netflix began life as a mail order dvd service;
Nintendo original was as a playing card company.
Watch this space for pandemic response pivots.
Q is for QA
A QA process is essential for a startup to survive and thrive. Some startups will have full teams dedicated to quality assurance. You'll learn about the QA process on our accelerator programme aimed at early stage startups.
R is for (RWD) Responsive Web Design
If you're building a website in 2020 your website needs to be responsive. This means the design  of your website responds and usually scales to the environment it is viewed in. ie:  smart devices and screens of all sizes.
S is for Silicon Alley/way.
Silicon Valley is home to some of the worlds biggest and best startups, but in Belfast we have our own heart of the Startups. Next-door to the Duke of York, you'll find the Raise Ventures offices, known locally as Silicon Alleyway.
T is for Traction
Traction is concrete evidence that your hypothesis is working – it will be gaining popularity or acceptance in the market. Insert obligatory graph below:
U is for Unicorn
A unicorn is a company with a + $1 Billion valuation. Unicorns are rare but are what a lot of startups aspire to be.
V is for Valuation
Valuations need to be realistic – otherwise you might scare off potential investors. One of the key lessons you will learn on the Raise Accelerator program is how to value your company.
W is Wireframe
X is for spaceX
SpaceX designs, manufactures and launches advanced rockets and spacecraft. They are founded by billionaire CEO Elon Musk, when launching your startup, reach for the stars. Or in Elons case. Occupy Mars.
Y is for Y-Combinator
Y Combinator created a new model for funding early stage startups. t has been used to launch over 2,000 companies, including Stripe, Airbnb, Cruise Automation, DoorDash, Coinbase, Instacart, Dropbox and Twitch. The combined valuation of the top YC companies was over US$155 billion as of October 2019.
Z is for Zoom
Zoom is an online video conferencing tool that has taken over the online communication space.  Zoom has seen exponential growth during the 2020 Covid19 Pandemic and shows you that your company can grow and scale during times like this. If you want to learn more, or catch with our team via Zoom, attend one of our online events or submit an application and apply to the Raise Ventures summer cohort today.