Northern Ireland has a long recognised and well deserved reputation for innovation within the national and global financial services industry.  The recent FinTech Week, delivered online by Innovate Finance, had a number of webinars that showcased the work of FinTech NI.  This group chaired by David Allister (Danske Bank) and with an active board including Alex Lee (leading local Fintech investor, NED and FSCOM Chair) Karen Bradbury (Invest NI), Chris Jessup (A& L Goodbody), Andrew Jenkins (NI Fintech Envoy) and Alan Duncan (Agile Communications) has taken a strong lead showcasing the talent and opportunity that exists within the Northern Irish finance and technology sector.
Not just competitive! But Leading!
We have a considerable legacy and as a result a bright future for Fintech in Northern Ireland.
Brian Conlon led First Derivatives in the 1990s to demonstrate that world leading innovation could be developed and delivered from a business with an HQ in Newry, Co Down. Now in the roaring 2020s, they are forging ahead and providing the next generation of fintech startups access to their technology and investment through their KX fund.
In 2008 Wombat Technologies based in Belfast developed a platform for high frequency trading, it was acquired by the New York Stock Exchange for $200m in 2008.  One of the founders Danny Moore has gone on to form Options technology, they secured $100m+ investment, enabling further growth as they support stock markets and trading platforms across the world.
These examples show the ambition and skill that underpin the strong reputation that has lead to strong levels of near-shoring operations which have been established by these globally recognised financial services firms Citi, Liberty Mutual, Allstate and Chicago Mercantile Exchange (CME).
The Triple Helix of Industry, Academia, Government
To enable this growth there has been collaboration between Northern Ireland's two universities, local government and global companies.  They have implemented a number of collaborative initiatives in training and education, such as financial services, cyber and data analytics academies, to ensure the workforce continues to meet the needs of the global technology industry.  Danske Bank has also opened the FinTech Hub to provide a home for Fintech Startups.
In addition to extensive AI, data science and software engineering courses, the region's two universities – Queen's University Belfast and Ulster University – run a growing number of fintech-related graduate training schemes, and both have developed state-of-the-art trading room facilities for students, equipped with Bloomberg terminals.  Leading consultancy houses PwC and Deloitte are investing heavily in their technology teams in Northern Ireland with PwC Belfast having the largest group of blockchain specialists in the consultancy worldwide.
The map below shows the full scale of the Northern Irish fintech ecosystem: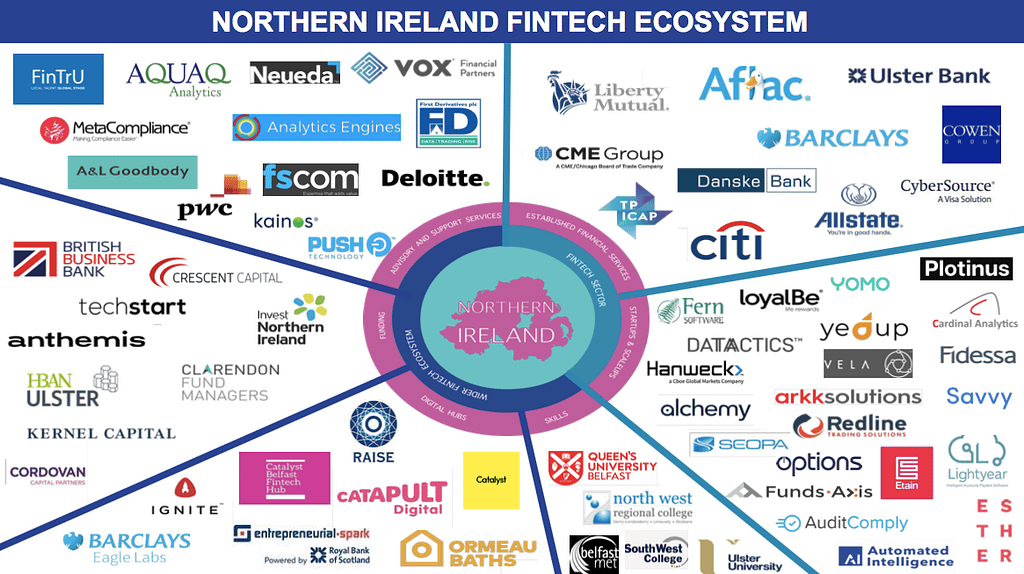 Solving Real Problems
At Raise Ventures we are keen to support the next generation of startups and entrepreneurs who see real problems within the financial services sectors and have solutions to solve them.  We are well placed to support these businesses.  I've been involved in the fintech sector for the past decade with the Grow VC group and Sapphire Capital Partners.  We understand that the key barriers to success in this sector are often recognised as investment, technology and regulation.
If you review the map above, NI is well represented with companies, people and support, who are keen to help the next generation.
In regards to investment we have a supportive ecosystem locally through an active angel community and supported by the Techstart and other government funds. Through the efforts of the Raise Ventures, Fintech NI, Innovative Finance and Sapphire Capital Partners, NI is firmly on the UK and Irish fund and investment platform radar.  Efforts are also ongoing to build relationships with investors across the world.  The evangelical nature of the success stories such as AquaQs work in Asian and US markets keep NI relevant.
The technology barrier can be overcome with talent.
While we work with companies, trade bodies and governments to increase the flow of local talent for the hungry software development and knowledge worker industry in Northern Ireland, there is local specialised talent available and where it's not our networks we have the ability to stretch far and wide to help find those people who realise the vision.  This could be the time for staff to start spinning ideas out of the inward investment firms and well established indigienous companies.  Wombat came from First Derivatives – what's next?
Regulatory barriers are often the hardest
Fintech innovators from a financial services background often are better equipped to cope with this challenge.  Innovators from tech backgrounds are often surpised and reluctatnt to embrace the regulatory environment.  One great initiatives is the FCA Sandbox which can allow startups to operate under special rules.  This avoids the Supercar Error – "don't launch a fintech and start trading without regulatory approval, it's like building a supercar and driving down the motorway at 100 mph to prove you can – you are still breaking the law" – There is also local support in this area with FSCOM actively working with the UK and Ireland's leading payment, challenger banks and funds. They are available to advise.
The other regulatory barrier is potentially an opportunity.  With Northern Ireland being on the edge of the UK and with a land border and specific rules with the EU – how funds and fintech providers to both ROI and UK companies operate is up for debate.  On a call last week, there was consensus that there should be harmonisation of a number of rules to allow NI firms to operate in both regions.  This will run and run.
Innovate Your Way Out Of A Crisis
The other obvious challenge is Covid and the global pandemic.  We are already seeing fintech solutions emerge to help businesses operate.  The land registry opening up to online registration, esignatures being increasing accepted on other documents are two examples.  It can be seen as flippant to describe this as a time of opportunity while people are losing their lives.  It is however a time to reflect and if possible use the time in lockdown to explore ideas and start building the future..
Applications are open!
Applications are open for Raise Ventures Summer intake and we would be delighted to welcome Fintech ideas and use our experience and networks to help founders realise their vision.