When Alastair Cameron from Startacus came to Belfast to meet up and said "I want to run a female focused tech event in Derry", I thought great let's take a chance and see how  we can help.
We offered for Raise to helps sponsor the evening social, because that's what works for us, the networking, the connection, the conversation.
Hat's off to Alastair, he gathered up a range of speakers, sponsors and even a range of startup pitchers for a superb LineUpConference in Derry on Thursday 5th March.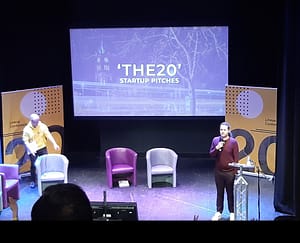 Here is what made it work, a range of topics focused on females and tech. Short talks on relevant & important topics with key takeaways mixed with pitching startups and networking.
Rosemary Williamson at Allstate talked on talent as only 26.4% of women work in tech. It's so important at all levels from school through to 3rd level education and right up to career change opportunities to inspire and recruit new talent for tech workplaces from.
Daisy Onubugh from Backed VC jumped on stage to say as a venture capital company they know they have to differentiate themselves and they focus on a good founding team who can move quickly and is resilient. They are champions of diversity and understand there is little room for doing investment the old way.
We had the pleasure of being part of a panel with Dave Graham, Diane Roberts and Fionnuala Deane to chat through the future of business and why it matters. The main theme being remote working, there will be jobs created this decade that don't exist, the burst of AI / VR / AR and Blockchain is here and employees and employers will need to adapt.
Naomi Timperley from rradar discussed the importance of people and communities and how we need them o be part of creating tech. It can't all be done online,, there needs to be face to face networking, skill share and knowledge. Also idea creation and innovation needs to include the customer. The community should be used to break the wall with the customer and find out what's important before the tech gets built. It is key to have human centrered design and understand the need to fail fast and try again.
Gary Rutherford talked about using his experience in mental health to help others and create his business to bust the myths of judgement, discrimination and change perception of people living with mental health issues. There is hope for change.
A great panel discussion from Carol Fitzsimons, Anne O Neill, Katherine Rowlandson and Colin Keogh on the skills in the workplace. The necessity for project based learning and outcomes. Schools and families need to inspire creative problem solving and introduction to technology. One of the best way to upskill is to have peer to peer learning and work in collaboration and when there is failure encourage others to try again.
Dave Graham highlighted emerging technology can be often be predicted from the past. And it's all about re-imagining new solutions that solve actual problems.
Technology permeates every section of life and has the ultimate aim of helping people who are unable to help themselves.
Jacquleine McCann talked about the new Catalyst NW co founder programme and the opportunity for founders to explore ideas with a digital elements alongside skilled and experienced mentors as part of a 10 week programme.
Paula Kennedy Garcia told the audience about Solv, an intrapreneurship idea from Concentrix that actually disrupts their own business model. Instead of being a customer service centre full of employees at desks, Solv allows freelancers to be customer services reps remotely and solve problems for Concentrix clients.
Leeann Monk-Ozgul told the story of Elemental, the award winning female founding startup from Derry. It was great to hear a real life startup story, the ups and downs, the resilience and see how success will come to those who are resilient and hard working.
Diane Roberts has a real passion for startups and is not only mentoring startups on strategy, she is also working in charity sector to help the Hospice with a fundraising initiative to get 20 people to give £20k to keep a bed open for a year.
Patricia Green gave some top tips on avoiding bias in your marketing which was real practical advice for startups selling online.
Mixed in with all the great talks and panels was the Female Startup Pitching Competition – Founders has  3 minutes to pitch to win £2020 and mentoring from 20 top advocates! The quality of female pitches was second to none and some very invest able ideas including Journey Protector, Loolyn, Kubera, Proton, SustainIQ,, ITUS, My Gut Solution, Esther, Aluna.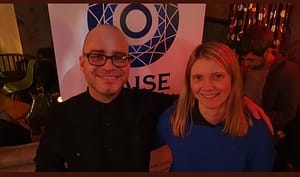 The fabulous day time conference was followed by the evening social where the audience were able to chat, share experiences and listen to Mary McKenna share her top 10 tips for founders. With food from Lo and Slo, music from Baire all in Sandinos, it was a great night.
So was it worth the chance to back a female focused tech event – YES it was and we can't wait to be involved in more – well done to Alastair and his team and a big shout out to sponsors, supporters and speakers that made it happen!
Event organisers should catch on, smaller, focused events with key learnings and takeaways are much more valuable than large events where the message gets lost and the presenters are just telling their story to make themselves feel special.