Continuous learning, stretching the brain, listening to others, taking on board information is so valuable in today's world. The is so much to learn and keep up with and luckily a lot of good presenters and speakers willing to teach.
Out of the events calendar in a year, it's important to pencil in time for continuous learning, this could be a workshop to skill up in an area that will help you in your job, or your career development or even a hobby. However continuous learning also comes from key note speakers and their "war stories" of their career and life.
Two great events here in Belfast in the last month included two great speakers. One was Women In Business at The Merchant raising funds for Cancer Focus NI.

The keynote speaker was Jenny Campbell from Dragons Den. Her tips from the top included
See challenges as opportunities
You can be more than you ever think you can be
Stop apologising
Stay strong, build a support network and you will achieve more
I took away from her speech that with every opportunity Jenny came across, she weighed up the pros and cons of going for it and often then took the dive first before figuring out how to make it work with life and family.
She learnt from the ground up, she was hands on in the role from serving customers right up through the ranks to manager at the bank. And knowing any business from the inside out is the best way to drive change and find opportunities.
The final thought of her speech was make sure you have TREBLE D – Drive, Dedication and Determination
Very inspiring and lots to learn in just a 30 minute speech.
Following this event, more recently I attended the Belfast Start Up Show with Lora Morgan  from Scentered, DryRobe  and Yogi Bare as Keynote Speaker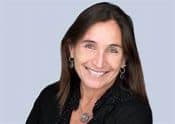 Lora's tips from the top included
Lead by example
Invest in yourself
Talk and understand the numbers – margin / cash flow / Balance Sheets and P& L's
If starting out with an idea ask some strangers if they would buy it cause friends and family will always say yes
Get some sales training
Be persistent
Go into strange rooms and network
Go to everything that is free
Listen to innovate
Never stop learning
The final thought was to stay focused, work on something you are passionate and always live and learn. Lora has built an incredibly successful business in leisure products and has taken her key learnings and applied them to the next businesses she has been involved in or invested in.
The key learning here is the industry expertise here is vital and anyone with an idea should have some industry experience.
Tips from The Top , these great ladies, Jenny Campbell and Lora Morgan built their businesses are have been successful. They are happy to share their story and "pay it forward" for the next entrepreneur coming through.
How can you inspire the next entrepreneur, pay it forward and even learn something in return. Interested in networking with like minded founders and want-repreneurs check out the Raise Start Up Club starting in January.