Raise the Glass was the latest in our series of pitching events for founders and investors. Founded itself when there was no way for startups to meet financiers it's proving to be popular! Last night we had six pitches, half of them going through the Raise programme and half of them independent. It's important for everyone to realise that our efforts are not siloed. We give away much of our content on this blog or through open workshops. Anyone can attend, even (and I know this might make one person faint) if you're on one of the incubation programmes in the city and beyond. Being in one of these incubators also doesn't preclude you from joining our acceleration programme – we just want startups that fit with our growth model. For this reason we don't take good causes, or social enterprises or small businesses who aren't solving real problems.
If you're interested in being accelerated on your journey, if you're interested in getting the lessons that you can't get anywhere else, then have a read of our blog (especially our five year revenue projection) and if you're happy with the level of content being offered, then come and talk to us about the next cohort.
Now, here are the startups who pitched last night….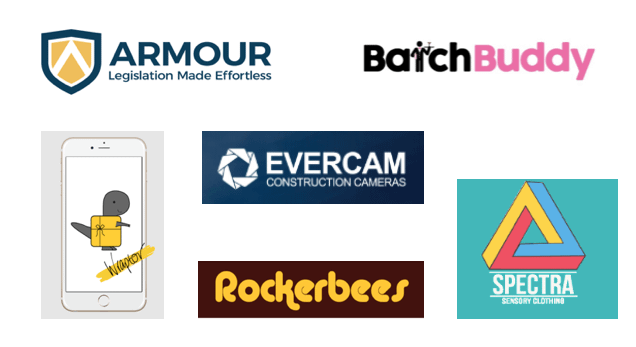 Armour
Armour allows organisations to identify, manage, audit and keep up to date with legislation. This new innovative cloud based software solution is primarily focused on health, safety, environmental and HR requirements.
Armour will save organisations time and money by simplifying legal jargon, reducing business risk and help gain compliance. Armour are launching in early 2020, have customers waiting for the platform and a solid route to market.
Contact: Charlene Armour
Email: info@operationarmour.com
Phone: 07496302416
Website: www.operationarmour.com
BatchBuddy
BatchBuddy is a range of beautifully designed glass bottles conceived to make batching cocktails for parties hassle free and perfect every time. BatchBuddy's range includes some of the world's most popular cocktails. Each BatchBuddy bottle displays the precise recipe, measurements and instructions to make your favourite cocktail. Batchbuddy are currently storming their way to success on Kickstarter and will be releasing their product to the general public in time for Christmas!
Contact: John Ferguson
Email: info@batchbuddy.co.uk
Phone: 07729641355
Website: www.batchbuddy.co.uk
Wraptor
Wish lists made simple. Wraptor lets you create wish list (Wraps) for any occasion. Add any product from any store on your list. You can easily view and buy for your friends and family through their wish list also.
 Wraptor is already operating with a number of high profile retailers and seeking scale-up investment.
Contact: Alice Sykes
Email: alice@wraptorapp.com
Phone: 07817533690
Website: www.wraptorapp.com
Evercam
A video platform for construction sites, providing promotional content, ease of collaboration and dispute avoidance. 
Evercam turns a CCTV camera into an AI powered communications powertool. Evercam are seeking scale-up investment to allow international expansion.
Contact: Marco Herbst
Email: marco@evercam.io
Phone: + 353861960451
Website: www.evercam.io
Rockerbees
A new innovative SaaS platform that will allow venues to find and recruit the best cover music for regular entertainment. 
Venues will be able to book music acts months in advance, find musicians that match their preferred style and be able to rate them through a community review platform. Likewise the platform will allow musicians to be able to market themselves to bars by creating profiles. Rockerbees will provide a cost efficient way of connecting venues to musicians.
Contact: Stuart Lunn
Email: s.lunn86@gmail.com
Phone: 07837837904
Website: http://www.rockerbees.bandzoogle.com/
Spectra Sensory Clothing
A specialist clothing supplier and manufacturer of sensory seamless socks, sensory clothing, school uniforms and casual clothing. They are seeking investment for expansion and to improve sourcing and import/export.
Contact: Meta Auden
Email: meta@spectrasensoryclothing.com
Phone: 07845130308
Website: www.spectrasensoryclothing.com
This morning we are engaged in post-pitch reviews, preparing and watching videos of the pitches to see if there are improvements to be made and following up on business cards handed over and due diligence on introductions.