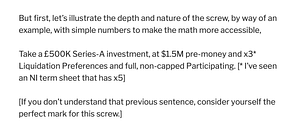 Chilling description of what can happen if you don't have someone to come to for advice.
The term-sheet mentioned (with the 5x Liquidation Preference and the double-dipping) came from the now-defunct e-Synergy – a so-called venture (vulture) capital firm engaged by Invest NI to manage their spin-out fund (NISPO!). The predatory clauses on the term sheets were waved away with the statement they needed to be a "commercial fund". But take it from everyone in the actual industry (and not those just managing taxpayer money), it's possible to be a commercial fund and not just set out to screw every founder, ever. In fact, it's completely counter-productive to screw over founders as you're setting the scene for a future where founders just leave (or they just stop founding).
We are unambiguously founder-friendly. That means we will make our decisions for the benefit of the founder and the company. We will stay in a company as long as it makes sense and as long as we are welcome. We have no interest in unseating founders (relegating them to safety-pen jobs in "strategy"). We want founders to stay engaged, involved and motivated. To do otherwise would be unethical.
We have a varied team – people who have built companies, raised money, run successful companies, IPOed, invested in companies achieved international sales, and lots of people who have read lots of term sheets. We would recommend that people come on our programme before they concern themselves with term sheets and definitely before they sign them.