RT if you believe we need new ways ALL entrepreneurs, regardless of their background, can access capital. Spread the word – Kauffman's Capital Access Lab aims to level the playing field. https://t.co/cjjA1pyoF7

— Kauffman Foundation (@KauffmanFDN) July 31, 2019
"83% of new businesses don't access either venture capital or bank loans"
This figure is a little misleading when you consider that most entrepreneurs are not starting out from a place where they can get venture capital or bank loans. It's not for want of trying is what I mean. The biggest barriers to accessing capital have been race, ethnicity, gender and geography. Most entrepreneurs end up relying on savings, FFF (Friends, Family, Fools) and personal credit cards to bankroll their business. These are relatively expensive in terms of interest and, in the FF case, in terms of potential cost to your social network. If things go wrong, just when you feel at your lowest, you've alienated your support network!
A conversation recently (on FB) highlighted that "privilege" is still a thing. It's not easy to get access to capital when you're a white male with a decent education in the developed world. But it's hard, as a white male, to visualise how hard it is to access capital when you're from a different demographic.
At the link above you can learn more about the research that led to this Capital Lab.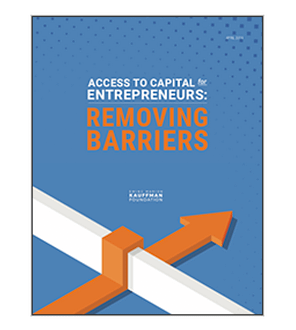 It's your right to be uncommon if you can. You seek opportunity to compete. You desire to take the calculated risk, to dream, to build, yes, even to fail, and to succeed.

— Ewing Marion Kauffman
The Kauffman Foundation talks about a "Zero Barriers to Entrepreneurship" nation. That's an exciting prospect that could be easily copied here in the UK and specifically in Northern Ireland. There's plenty of Capital available in the region and plenty of smart, interested investors (as our Raise events and previous HALO and current HBAN events have proved). The difficulty is connecting them – which is why we have a series of events every single month as well as a bi-annual RAISE in order to connect capital to entrepreneur.
Kauffman identifies five types of infrastructure that can help.
Capital – diversity of capital vehicles.
People – looking to the entrepreneurs to provide new vehicles.
Information – technology to match capital to entrepreneurs.
Knowledge – provision of knowledge to help entrepreneurs prepare.
Policy – informing lawmakers and regulators.
Raise is currently serving three of the five infrastructure points above – in a region that is traditionally starved of capital and remedies the situation with anti-competitive government loan funds (we're about to move into the third NISPO fund since I've been involved in this part of the community and I welcome some change in how it's managed). Doing the same thing for a third time and expecting change is madness.
We are interested in talking to anyone who wants to get involved in the thought process behind any of the five points above. We may not be the Kauffman Foundation but a small group of committed individuals can change the world, indeed it is the only thing that ever has. (Kudos to Margaret Mead).